Fa'tin Soufieh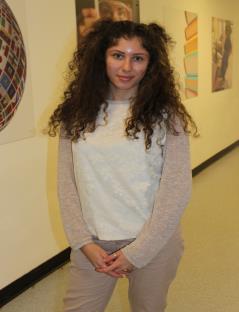 'A' Levels – Mid Devon
Psychology, English and Maths
"Initially I was looking at colleges in the surrounding area, but soon realised that I didn't need to move away to study, everything I needed was right here in Tiverton.
I moved to the UK from Hungary three years ago, and joined Tiverton High School in Year 10. The approach to education is very different here – better in some ways – as I feel students are more equipped for life when they leave college. The independent study and level of responsibility at college in the UK is not really felt until university level in Hungary.
Psychology has always fascinated me, ever since I attended a lecture when I lived in Hungary. I am intrigued by people and how they think and behave. I decided to also study English and Maths at 'A' Level, as I felt they were great core subjects to prepare me for future study.
I really like the Mid Devon Campus, everyone is very supportive of each other and I know that I can always approach my tutors or lecturers if I have a question or need help with something.
I have decided to apply to Exeter University to study Psychology, as I know you can do so many things with this subject. I'm still not sure what I want to do career-wise, but I'm hoping that going to university will give me a better understanding of what jobs are out there and what a Degree in Psychology can lead to.
Eventually, I can imagine myself moving away for work, maybe even abroad. Being bilingual and learning about different cultures just makes me want to learn even more."