Former student to escort Kate and Will in Royal Wedding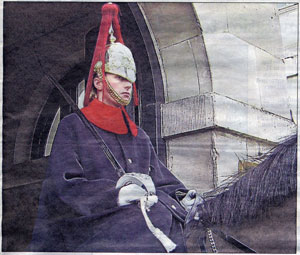 Millions around the world will be watching the Royal Wedding next month but only a handful of people will be able to say there were directly involved in the glad tidings.
Among that select few is former Tiverton High School pupil Sam Gasan. Sam is a trooper in the Blues and Royals division of the Household Cavalry who will be on horseback escorting the royal couple when they leave Westminster Abbey.
Sam's proud mum Carole said she had already told work colleagues about her son's involvement in the pageantry.
"I think I am more excited than Sam is, because for them it is just a job like any other state occasion," she said. "However, what will make it special is the buzz there will be in London that day. After all, how many people can say they were directly involved in the wedding?"
Prince William and Catherine Middleton are set to tie the know at the Abbey on Friday, April 29, with the day having been declared a public holiday throughout the UK.
While for some preparing for the event will mean organising street parties or gathering around the television, Carole said Sam and the boys the Hyde Park barracks would have their own ritual.
"They will probably be up all night beforehand polishing their kits," she said.
Carole added: "We had thought about going up to London but we probably won't be able to pick him out and will probably be a better chance of spotting him by watching TV."
Sam's parents have been to London recently when Carole said she did get to see her son on duty and had been amazed by the confident way he handled his horse.
"He had never ridden a horse before he joined the Household Cavalry."
Carole said since joining the cavalry, Sam had "made a low of good friends".
She said: "Many of the tourists don't realise that the guards are actually soldiers, they think they are just there as toursit attractions."
Hundreds of soldiers will be involved in providing the Sovereign Escort, and will be either ahead or behind the Royal carriage as the procession travels from the Abbey to Buckingham Palace where the Queen will host a reception for the couple.
A Palace spokesman said it was a "great honour" for those selected to escort royalty at such an occasion.
The Tiverton Gazette