Former student wins college award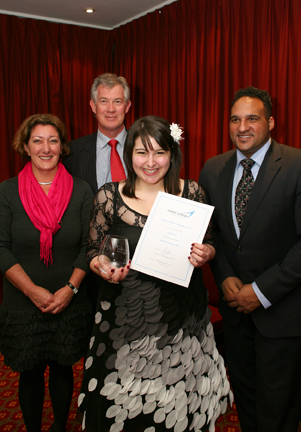 It is always a pleasure to report on success by Tiverton High School students, be they current or former. This week we were delighted to hear the news that one of our former students was celebrated by Exeter College at their recent annual awards ceremony.
Kate Marks, aged 21, of Tiverton, was put forward for her award as English, Languages and IB Student of the Year not only because of her impressive academic achievements but also because of her particularly endearing personality.
Of the former Tiverton High School pupil, staff recall: 'Entirely willing to support and help her peers, Kate was considered an invaluable member of both her AS and A Level English Literature classes.
Achieving high A grades in both, Kate's coursework was commended by an external moderator. She also supported College events such as the AS Awards. She is presently taking a gap year to go travelling and is planning to begin university in September.
In between her adventures abroad, Kate admits she's not one to rest idle. The award winner, who completed her Fast track English Literature AS Level and subsequent A Level qualification in one year at the College, explained: "I'm taking French classes, reading everything I can get my hands on, visiting friends, knitting, learning to cook and enjoying eating.
"While this year gives me time to take a step back from my studies, I can't wait for my English Literature and Drama Course at the University of East Anglia to begin.
"I never want to stop learning, listening to people, and engaging in all aspects of life," she continued. "The dream is to become a teacher, journalist, director, publicist, florist, book shop owner and all round good cookie. Let's see how it goes!"
Recalling her College days, she added: "The resources available at Exeter College were fantastic. To be able to use university-level journals and essays was really inspiring and really opened by mind. I also felt that the College's walls extended to the surrounding parks and cafes I studied in; it was so lovely to be part of a College so integral to the city."
Praising staff within the Faculty and across the College, Kate continued: "The standard of intellect, care and support I experienced was outstanding. Their passion for their subjects was highly infectious, and there wasn't a class that I walked away from without my mind buzzing with ideas. I will look back at my time at Exeter College with much happiness. Thank you!"