Isla Kouassi-Kan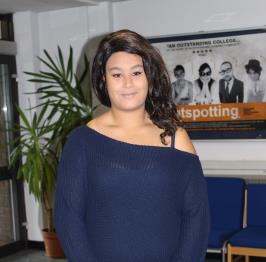 A Levels – Mid Devon
English Language and Literature, History,
Psychology
"I knew I wanted to keep my options open, so I chose quite a broad range of subjects at A Level.
When I was at Tiverton High School I did a project about the history of Tiverton and also completed some work experience at the museum. Since then, history and culture have really interested me. I think it is really important to engage with the local community, as Tiverton is a great place full of interesting and inspiring people. I have put myself at the forefront of Tiverton's community, learnt lots and encourage you to do the same.
I travelled a lot when I was younger – my mum is quite a flighty character, so we spent a lot of time abroad when I was a child. I guess this has influenced me, too, and made me want to discover more about the world.
Despite travelling a lot when I was young, I've never spent time in Europe. So, I have planned and secured funding from the Peter Kirk Fund to take a gap year, when I finish college and go to 13 different countries. Unlike most 'normal' backpackers, though, I'll be spending my time looking at museums, architectural ruins and artefacts!
On my return I plan to go to university and have already secured a scholarship for Exeter University thanks to my involvement in the STAR programme.
My lecturers have been extremely supportive during my time at college, and always seem to show a genuine interest in what I'm doing. For anyone interested in travel and culture, I would recommend studying History and English as the two subjects regularly cross over and complement each other."