Oli Tuck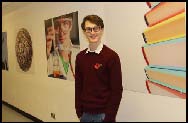 A Levels – Law, Business and Photography
After GCSEs I spent two years at Exeter College, doing the International Baccalaureate. However, it wasn't for me and in 2013 I made a fresh start and joined Petroc on an A Level programme.
I really like Petroc. It has a close-knit, community feel and I've found it really easy to get involved in a number of different aspects; I am currently President of the Student Union (SU) and am also a student ambassador.
In my role as President I manage the other officers and make sure things get done. The SU supports and represents other students. It gives students a voice, as well as putting on fun events and raising money for charity.
Being President has taught me lots of new skills, such as time and project management, which I can take forward with me to university or into employment. The role also closely correlates with the work I do on my Business A Level course, and gives me the opportunity to put what I've learnt into practice in terms of marketing, communication and branding.
In contrast to the International Baccalaureate, which was incredibly broad, my A Level selection has enabled me to really focus on the things I enjoy. Petroc has really helped shape me as a person and has given me the opportunity to explore my options and study subjects I'm passionate about.