Pippin's week – 22-4-2020
Pippin has really been enjoying the sunshine and has been in her run on the grass every day, even if it rains as it has shelter. However, she hates having to come in and go to bed in her hutch.
She is eating all fruits and vegetables that are safe for rabbits to eat-when she came to us in school, if you remember she hated fresh food! Her favourites this week are peppers, lettuce, kale and herbs. I am growing these in the garden for her now as well as she eats so many.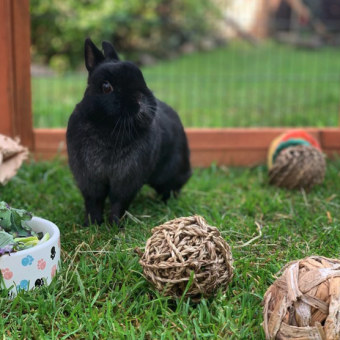 She has two rabbit friends! You have all met Hector and our other rescue rabbit Oreo. She loves these rabbits to rub noses at her cage with her.
Pippin lives in the garden when she comes home with me and she loves sniffing the air and exploring. She REALLY enjoys watching my dogs, Max and Rosie and is transfixed by Max's big bushy tale!
Next week Pippin is going to write her own blog. 😊