Safeguarding
At Tiverton High School we are committed to keeping our students safe. Every child has the right to feel safe no matter who they are or what their circumstances.
Safeguarding and promoting the welfare of children is everyone's responsibility. Everyone who comes into contact with children and their families and carers has a role to play in safeguarding children. In order to fulfill this responsibility effectively, all professionals should make sure their approach is child-centred. This means that they should consider, at all times, what is in the best interests of the child.
At Tiverton High School the Designated Safeguarding Lead (DSL) is Carrie Morrell and the Deputy DSL is Kerrie Butler.
If you have a concern regarding a child and would like to discuss your worries please contact Carrie or Kerrie at safeguarding@tiverton.devon.sch.uk or call the main school number 01884 256655.
If it is outside of school hours please contact Carrie on 07702513401. If you are unable to make contact with Carrie or if, a child is in immediate danger or is at risk of significant harm a call should be made to children's social care and/or the police immediately. For further advice please call the MASH team on 0345 155 1071 or the police on 999 / 101.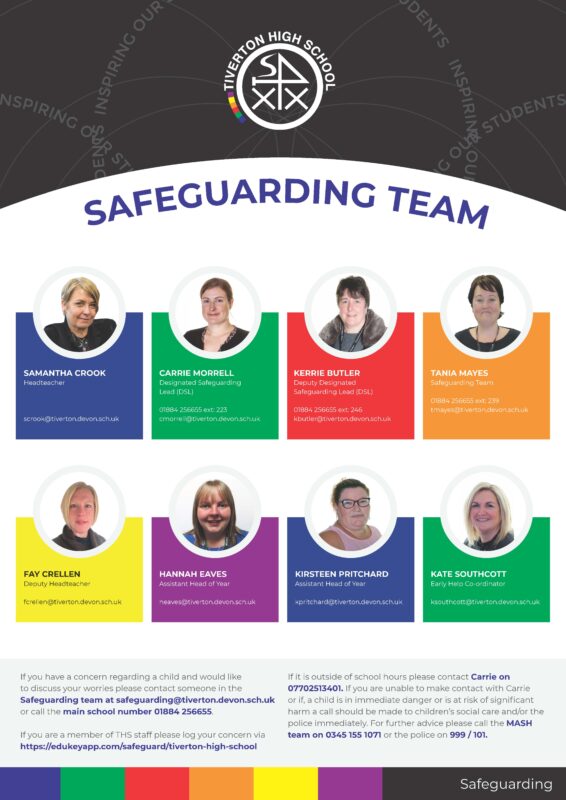 At Tiverton High School we work within the guidance and procedures set out in national and local government policies and procedures. All of our staff team have read and understood the information set out in the document ''Keeping Children Safe In Education' and we use the information in the document to inform the way we educate our parents/carers and students on how to keep themselves safe.
You can download our THS Safeguarding Poster and our Safeguarding policy here: THS CP and Safeguarding Policy Oct 2021 (Amended).