Mental wellbeing and support services
Tiverton High School aims to promote positive mental health for every member of our school community. The mental and physical well-being of our students and staff is at the heart of all that we do. We aim to…
Promote mental health as part of school life;
Improve the emotional wellbeing of their staff and students;
Ensure mental health problems are identified early and appropriate support provided;
Offer provision and interventions that matches the needs of its students and staff;
Engage the whole-school community in the importance of mental health awareness and
Capture the views of parents, carers and guardians, students and teachers on mental health issues
Evidence suggests there are 5 steps you can take to improve your mental health and wellbeing. Trying these things could help you feel more positive and able to get the most out of life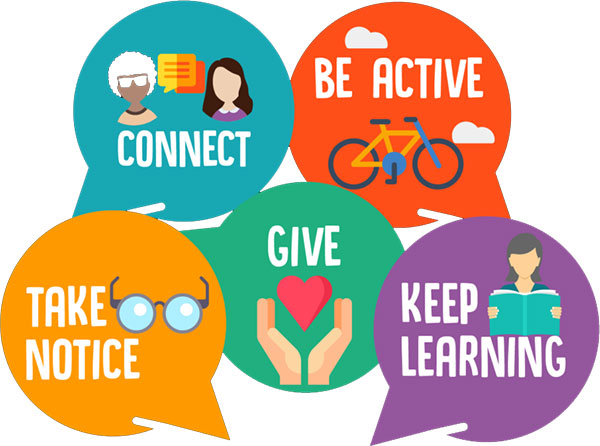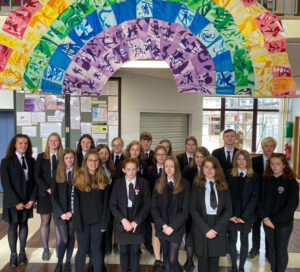 We have trained 20 year 10 students as wellbeing ambassadors; student applied for the role and went through training. Following the training, they will use these skills and knowledge to develop and lead peer support projects that reduce mental health stigma, improve access to support for all students, and encourage the development of positive coping and stress management, reducing the risk of mental health problems in young people now, and in later life.
We know that young people can sometimes find it hard to talk to adults about their worries or any difficulties they are facing. Some young people may not have an adult in their life they can trust, and others may feel they'll be judged or that an adult won't take their problems seriously. Having other young people who can offer them support or point them to where they can gain specific support is vital to these individuals to protect their mental health and promote wellbeing.
The Wellbeing Ambassadors Programme empowers young people to lead wellbeing initiatives to provide peer to peer support such as drop-in sessions, one to one peer coaching, campaigns to increase awareness of mental health and reduce stigma around discussing mental health problems. There are many benefits for the students who are trained as ambassadors as well as the peers who are receiving support.
We are really excited to have students with a skill set to help other students who may need support. These students have some fantastic ideas around raising awareness and supporting students to get help and support. Watch out for further information.
The team are passionate and striving for a positive change, its lovely to be part of something which will impact current and future students.  
Quotes from well being ambassadors
"It's an opportunity to support my peers. Its an area I'm passionate about and it will help reduce the stigma around Mental Health" 

"Mental health can effect anyone and anyone can help. I wanted to help recognise and normalise mental health. It was a too-greater opportunity to ignore"
Schools Mental Health Award
Tiverton High School has achieved the School Mental Health Award which is delivered by the Carnegie Centre of Excellence for Mental Health in Schools. THS were awarded a Bronze standard for its outstanding mental health and wellbeing provision.
Education Staff Wellbeing Charter

Tiverton High School has signed up to the charter.
Signing up to the charter is our public commitment to actively promote mental health and wellbeing through policy and practice. We believe that healthy, positive staff will benefit our school and our students, and will help us recruit and retain good staff.