The Vision for Student Services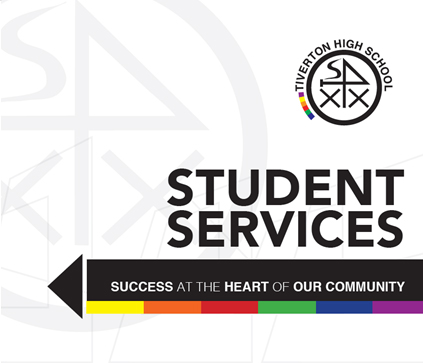 We want to further improve our provision for students and ensure that the service we provide is able to respond positively in order to meet their needs. It's important that all stakeholders see this part of the school and its systems and structures are there to support students' ability to access the highest quality teaching and learning experiences.
Student Services will seek to provide high quality student-focused support. We will work in partnership with all stakeholders to ensure students achieve their full potential during their time at the high school. We aim to equip students with the behaviours and attitudes necessary for success now and in their next stage of education, training or employment as well as their adult life. We will endeavour to empower students to understand how to keep themselves and others safe in different situations and settings. We will embed an open culture which actively promotes all aspects of students' welfare and work hard to prevent all forms of bullying. We will encourage students to make informed choices about their physical, mental and social well-being.
Under the Student Services umbrella, existing teams (Behaviour, Welfare, SEN, Attendance, Houses and Intervention Teams) are brought together into a coordinated, bigger team where we can work closer together to support each student better. At the heart of the support we offer to our students is the work of the House tutors.
Heads of House
The Heads of House have a holistic overview of the students in each of their Houses. They know as much as they can about the students in order to support subject leaders and teachers to get the best performance out of students. This means they understand any welfare and SEN needs and the impacts of these and coordinate long term strategies in order to support students and families as appropriate.
Student Support Workers
This team of three staff are available to support in dealing with incidents as appropriate. They form a vital communication link between school and home. At any one time, one member of the team will man the Triage desk in the Student Services Office.
The remaining two members of the team will be resolving issues that may arise over the day with students, meeting or otherwise communicating with parents and logging and communicating information. They are all First Aid qualified as well as being safeguarding trained.
SEND
Under the Code of Practice 2014, the 4 areas of need are led by team leads. These team leads are skilled staff who, whilst, having a keen interest in their area, contribute to the whole SEND approach within THS. The Cognition and Learning area specialise in raising literacy levels through a number of intervention programmes including Fresh Start and Passport Maths. The Speech, Language and Communication Needs area uses a range of interventions such as Social Stories to support students with their learning and to transfer skills back into the classroom. The Social Emotional and Mental Health area enables students to follow and alternative curriculum through clear planning and linked interventions with external agencies.
The Intervention Team
As part of our behaviour and welfare support, this team will lead timetabled group interventions as well as working with individuals. This would support students in all kinds of ways from transition to managing emotions and self-esteem.
Interventions Officer
Coordinates much of the school's sanctions and restorative work following negative behaviours. They work particularly with internally excluded students.
Counselling Team
A group of outside volunteers, together with our in-house School Councillor, are deployed to support our students when necessary.
Attendance Team
An administrative, strategic and intervention team to make sure that students are safe and promote and encourage the school's rising attendance figures.
Student Services Shop
Letters
Class Charts
Uniform
Equipment

Opening times

Monday-Friday:
8:30am-8:55am
11:00am-11:15am
1:00pm-1:40pm
3:25pm-4:00p