All students are expected to wear their uniform correctly. If students arrive to school in incorrect uniform, parents will be contacted and asked to provide an alternative.
Thomas Moore is our official school supplier of uniform and all of our uniform can be purchased from there (except for PE uniform which is purchased from Proserve).  We will accept school uniform purchased from other shops/suppliers as long as it meets the criteria below and has been riveted by the school. We no longer have a school uniform shop but do hold a small selection of ties at school.
Jacket: Tiverton High School jacket with logo
Shirt: A long or short sleeved plain white shirt with collar buttoned to the neck
Tie: Correct year group tie (see below for 2021-2022 ties)
Trousers: Riveted plain black school trousers
Skirts: Riveted plain black school skirts, worn to the knee. Straight or pleated only.
Shorts: Riveted plain black school shorts, worn to the knee
(Second half term in the summer term only)
Jumpers: Plain black V-neck knitted jumper or cardigan over shirt and tie (optional). With or without THS logo. This cannot be worn as an alternative to the school jacket.
Socks: Black socks. White socks can only be worn with skirts. Black or flesh coloured tights can be worn with skirts but no white socks.
Shoes: Black leather/synthetic flat formal shoes.
Jewellery: Maximum of two stud earrings. Badges issued by the school. Watches.
Hair & makeup: Discreet make-up, if worn. Tattoos and body art are not permitted.
Large bag suitable for carrying all equipment and books.
The following are not allowed:
Trousers: Leggings, jeggings, jeans, skin-tight/stretch trousers, shiny trousers, trousers with zip adornments.
Skirts: Skirts that are not a reasonable length or that do not allow a reasonable range of movement. Skirts made from stretchy/jersey type material. "Skater" style skirts.
Shorts: Shorts that are not a reasonable length or that do not allow a reasonable range of movement
Jumpers: Round-necked jumpers. Hoodies (with the exception of PE hoodies to be worn when only on days when in PE uniform)
Socks: Knee-high or coloured socks.
Shoes: Trainers/skater shoes e.g. Vans, Converse. No logos, coloured laces or coloured accents
Jewellery: More than two earrings. Hoop or bar earrings. Rings or any other jewellery. Nose studs or any other facial piercings. No coloured nail varnish or acrylic nails. 
Hair: No unnatural hair colours, no exaggerated hair styles
Ties 2021-2022
| | | |
| --- | --- | --- |
| Year 7 | black tie with double maroon stripe | |
| Year 8 | maroon tie with single black stripe | |
| Year 9 | maroon tie with double black stripe | |
| Year 10 | black tie with single maroon stripe | |
| Year 11 | maroon and black striped tie | |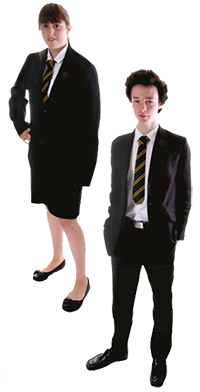 Ordering PE kit
This is our current price list and order form: