Facilities, leisure and clubs
Our school has a broad range of facilities that give students scope to learn, practice and perform – including theatre, sports hall and pitches, dance studio, and tennis courts. These are often available for private hire. See below for more information on our library and refectory facilities.
Library staff
Librarian: Miss Emily Pike. Contact epike@tiverton.devon.sch.uk
Opening times
| | |
| --- | --- |
| Monday | 8-3.45 |
| Tuesday | 8-3.45 |
| Wednesday | 8-3.45 |
| Thursday | 8-3.45 |
| Friday | 8-3.45 |
Library facilities
Our library is well stocked with fiction and non-fiction books. The fiction is organised into both genre areas as well as an alphabetical by author section. Our books cover a wide range of reading levels and we regularly update our books enabling us to stock up to date, recently published fiction. 
We hold a vast selection of dyslexia friendly fiction, books by popular authors and also a classics section.
Our non-fiction is interesting and has a dedicated area of the library. A perfect corner of the library hosts the self-care and well-being books which are regularly used and feature fiction books as well as the usual non-fiction.
We hold current magazines varying from Teen Breathe to FourFourTwo and Farmers Weekly.
Our student librarian programme is a valued enrichment activity. Students in years 9 and 10 can apply to become a student librarian in the Autumn term. The process involves an application form, interview, training and a four week trial period. If successful, students complete at least one duty per week for one year. In year 11 students can apply to become a senior librarian.
All year 7 and 8 students have fortnightly library lessons as part of their English curriculum where books are issued and changed alongside learning about different authors, genres and new releases. These lessons are about establishing reading for pleasure as well as helping support reading fluency. The library lessons are taught by our librarian and English teachers.
The library is open most break and lunchtimes to complete homework, read, play games and be with friends. After school sessions take place between 3 -3.45 and the library can be used for homework, revision, group work, board games or time with friends. We have regular sessions for Lego and crafts.
All students are required to have a reading book with them every day the library supports students by loaning them books and they are encouraged to read often and change their books regularly. They are able to change their books before school, break, lunch and after school. Our dedicated and experienced librarian is able to assist with choosing a book and can be contacted on the email above.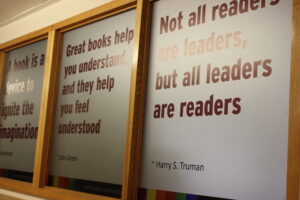 On 1st September, the school took over the running of the Refectory from an outside company that has run it for the last 9 years. The school felt that operating this in-house would lead to a number of benefits including:
Increased student and staff input into the range of products offered
Increase the take up of students using the Refectory
Utilise local suppliers for the sourcing of provisions
Ability to set our own pricing structure
Expand provision of catering to include school and community activities on the site.
There is a choice of main meals and deserts which are available each day, along with a range of hot and cold food including jacket potatoes, pasta or rice dishes, assorted sandwiches and rolls, wraps, fruit and assorted drinks.
Initial feedback from students has been very positive to the change. The House Councillors at their latest meetings overwhelmingly approved the new arrangements, in particular the new pricing structure. We have seen a significant increase in the number of students using the Refectory and enjoying the range of food on offer.
We see this as the start of the process to provide an improved facility for all, and plan to involve student and staff representatives in the future development of Our Refectory.