What's the Virtual Bookshelf all about?
Our librarian, Mrs Pike, is gathering resources for our virtual bookshelf every week.
Students are able to read extracts, look at clips, and then access contextual material she has put together to support her recommended reads, building knowledge and creating engagement. We hope you enjoy looking through the resources.
Bookmark this page and come back weekly.
Edition 28
As we build up to World Book Day why not take a look at some of the most recent book releases including books for fans of Dork Diaries and Tom Gates. Author focus on Sophie Mckenzie brings an insight into her latest book Hide and Secrets and for those that love an audiobook check out the popular Ultimate Football Heroes book Mbappe!
Edition 27
In the last Virtual Book Shelf of the year you'll find great extracts from brand new books, a few craft activities to keep you busy and a great programme featuring author Liz Hyder talking about the popular Bearmouth book.
Edition 26
The November edition of the Virtual Book Shelf contains some great non fiction as it is 'Non Fiction November'! Also included are some extracts from brand new books, authors reading their books aloud and a selection of books perfect to go on the Christmas list.
https://wke.lt/w/s/KQ0lVs
Edition 25
This month the Virtual Book Shelf is jam packed with spooky book recommendations, books to support Black History Month and features lots of books we have on our Mental Health and Wellbeing bookcase.
https://wke.lt/w/s/8zl0cO
Edition 24
Here is a brand new edition of Miss Pike's Virtual Book Shelf. Your very own collection of amazing book related items. Explore new genres, read extracts from brand new books and find podcasts, new stories and so much more. A perfect collection for our whole school community!
Edition 23
In this final edition for this school year we have lots to read and inspire over the holiday including extract and interview from Phil Earl. His latest book When the Sky Falls is brilliant. Also included this edition are some summer activity booklets, a storytelling challenge and plenty to read. Enjoy your summer and get lost in a book or two!
https://wke.lt/w/s/3VV37p
Edition 22
A bit of variety of fiction and non-fiction this week and some great news articles. Jungle Drop by Abi Elphinstone is a great audiobook to listen to this week too.
https://wke.lt/w/s/0iSw3-
Edition 21
Here is the latest Virtual Book Shelf.
This week there are lots of brand new books to discover, great interviews and lots of books to support and celebrate PRIDE.
https://wke.lt/w/s/dmtNg0
Edition 20
This week there are lots of extracts that are recommended to help us understand refugees, asylum and migration as it is Refugee Week – as well as some great fiction, audio books and podcasts. Also featured is the new library timetable and a book written phonetically – Bearmouth!
https://wke.lt/w/s/cqMxYQ
Edition 19
In this edition: A big focus on Empathy this week with some great author recommendations, short stories and extracts from books that help us understand what life might be like for others. I've not forgotten the football either so there are some great extracts from brilliant football books too!
https://wke.lt/w/s/JbAy9I
Edition 18
In this edition: Could you live without your phone for 6 weeks if it meant potentially winning a lot of money? Try reading The Disconnect to see how it works out for Esther. Lovely audio book this week called The Boy Who Made the World Disappear and catch up on a podcast. Take the time to watch a free concert that joins poetry, music and art together at the Natural History Museum. As it is half term next week there are also some creative things to do too.
https://wke.lt/w/s/oQFq_V
Edition 17
Here is this week's edition of the Virtual Book Shelf.
We have brand new banners each week with different reasons to read. Hope you like the first one.
This week we have an author interview with Kiran Millwood-Hargraves the popular author of A Girl of Ink and Stars. Jump into a Space Oddity and listen to an extract from brand new book Darwin's Dragons. Read the whole Book of Hopes for free too! If you like it we have a copy in the library for you to borrow.
https://wke.lt/w/s/4HHM3c
Edition 16
This week the edition focuses on Mental heath Awareness Week. In this special edition you'll find a wide range of fiction and non-fictions books chosen to help you understand mental health and the challenges a lot of people face. It is good to talk and it is good to read both to help understanding but also as a way to relax and promote well-being. There are also lots of recommendations and tips from staff! Enjoy.
https://wke.lt/w/s/IVbnZL
Edition 15
This week there is a Q and A interview with debut author Namina Forna the author of The Guilded Ones. Find out more about entering a poetry competition, listen to a classic by Jane Austen as well as popular author Matt Oldfield explaining how to write non-fiction!
https://wke.lt/w/s/0XwiEZ
You may also enjoy this image – Also this great picture by @scriberian – if you don't follow on Instagram then it is well worth it.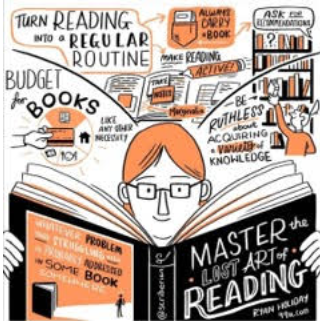 Edition 14
This week: Read a short story written by footballer Jamie Vardy, watch the trailer of the brand new Netflix series Shadow and Bone then read the opening extract from the book as well as delve into some recommended non-fiction.
https://wke.lt/w/s/33mbEO
Edition 13
This week: Listen to popular author Onjali Q Rauf talk about her award winning book Boy at the Back of the Class, read extracts from brand new books and get some amazing recommendations for your next spine tingling read!
https://wke.lt/w/s/Kgi5d-
Edition 12
This week there is plenty to keep students and families busy over the holiday with some great audio extracts, great news stories, interviews and a special focus on the brilliant books that we have to help us understand Autism as it is Autism Awareness Week. Why not find out more by reading the extracts.
https://wke.lt/w/s/_PCjvv
Edition 11
This week – Lots of great things including climate change non-fiction, author podcasts, David Walliams wordsearches and a 'Design the Next Virtual Book Shelf Banner' activity.
https://wke.lt/w/s/GGNQFj
Edition 10
This week there is plenty of football, a great group read short story, awesome audiobooks and some amazing advice from Katherine Rundell about Wild Adventure writing.
https://wke.lt/w/s/3UgDTb
Edition 9
In this edition there are lots of articles and interviews with authors this week as well as some great recommended reads. I have also included the library opening timetable too.
https://wke.lt/w/s/3UgDTb
Edition 8
Happy World Book Day!
In this edition we have a World Book Day theme as well as some great podcasts, author interviews and extracts from some brand new books.
Edition 7
This week contains a SHELFIE competition, 'if you like this, try this' and information about how to get your hands on your free World Book Day book using your digital token.
Edition 6
This week's theme is 'A little something for everyone'
Edition 5
This week it is Adventure!
https://wke.lt/w/s/LhCJCm
Edition 4
It is TV and film week!
https://wke.lt/w/s/N4W7xJ
Edition 3
Theme to support Holocaust Memorial Day on the 27th plus some other more light hearted content.
https://wke.lt/w/s/k_C_pU
Edition 2
Edition 1