Tyler Smith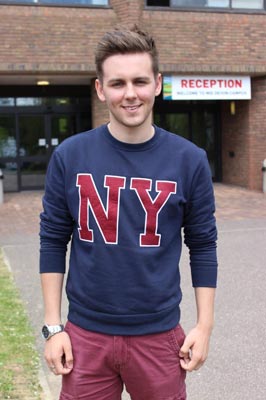 Former THS and Petroc Student
A Level Maths, Psychology and ICT
"I've always loved Maths – its a subject that came naturally to me, even at primary school.  I like how there's always a right or wrong answer – it's not subjective – so if you know your subject and understand the theory, you'll always do well.  I excelled at GCSE so it was a natural choice to study it at A level.
However, initially I didn't think I wanted to study Maths at University and instead applied for occupational therapy.  At the last minute though, I decided this wasn't for me and decided to stay on at Petroc for a third year.  I'd got a B in Maths and I knew I was capable of getting a better grade, and by this point I was seriously considering studying a Maths degree and I knew I'd need an A to get into a top University.
I enjoyed my time at Petroc and feel it prepared me well for University.  All my lecturers were really supportive and nothing was ever too much trouble if I needed extra help with any of my subjects.  Having said this, they still encouraged independent study which I'm grateful for, as this is a big part of University life.  You have to be very motivated and disciplined to succeed at degree level.
I successfully completed my third year at Petroc and secured a place at Brunel University in London to study Maths.
I think my combination of A levels has really helped me at University, and gave me a head start in my first year.  The University I am at focusses on research, something which I was very familiar with thanks to my study of Psychology.  Also, I'm glad I already had prior knowledge of Excel, thanks to ICT, as this features heavily in my course.  Also, I studied Physics at AS level, so had an understanding of mechanics which helped too.
For our third year at university we have to find a placement, to gain experience in industry.  I applied for a position at Disneymedia+ and, out of 1000 applicants, I managed to secure one of just eight places during an all day assessment in London.
I'll be based at their offices in Hammersmith, working with a research team looking at audiences of a range of Disney products with a view to selling targeted advertising.
I  the future this is exactly the area I want to work in; research and statistics.  I find it fascinating, so was thrilled to get such a lucrative placement with Disney, as it'll look great on my CV and stand me in good stead for whatever career path I choose to follow."